Ways I use Larder
We recently launched Larder, our new bookmarking app. I've been using Larder since it was possible to add a link (before we even sent it out to beta testers), so it's become a big part of my workflow.
Before Larder, I'd been a big bookmarker for years. I used Pinboard for a few years, but recently started looking for other options, as I really wanted to use folders to better organise my links. I tried a few other options but found that almost all were lacking native mobile apps, and some of the ones I liked best were buggy and couldn't handle my 6000+ link library.
Larder has an Android app, but I'm still early in the process of building an iOS app for it. Thankfully Josh is a talented web developer who cares about accessibility and responsive design, so he's made Larder work well on mobile web for now.
Here are some of the ways I'm using Larder so far.
GitHub stars

One of the main differences of Larder is that you can connect your GitHub account and we'll automatically import your stars for you. If you tend to star a lot of projects on GitHub but also like bookmarking articles or tutorials, it can be really handy to have these all in the same place. Our GitHub import stays up to date as you add new stars, and it automatically grabs a description for each project and tags it with the main language used.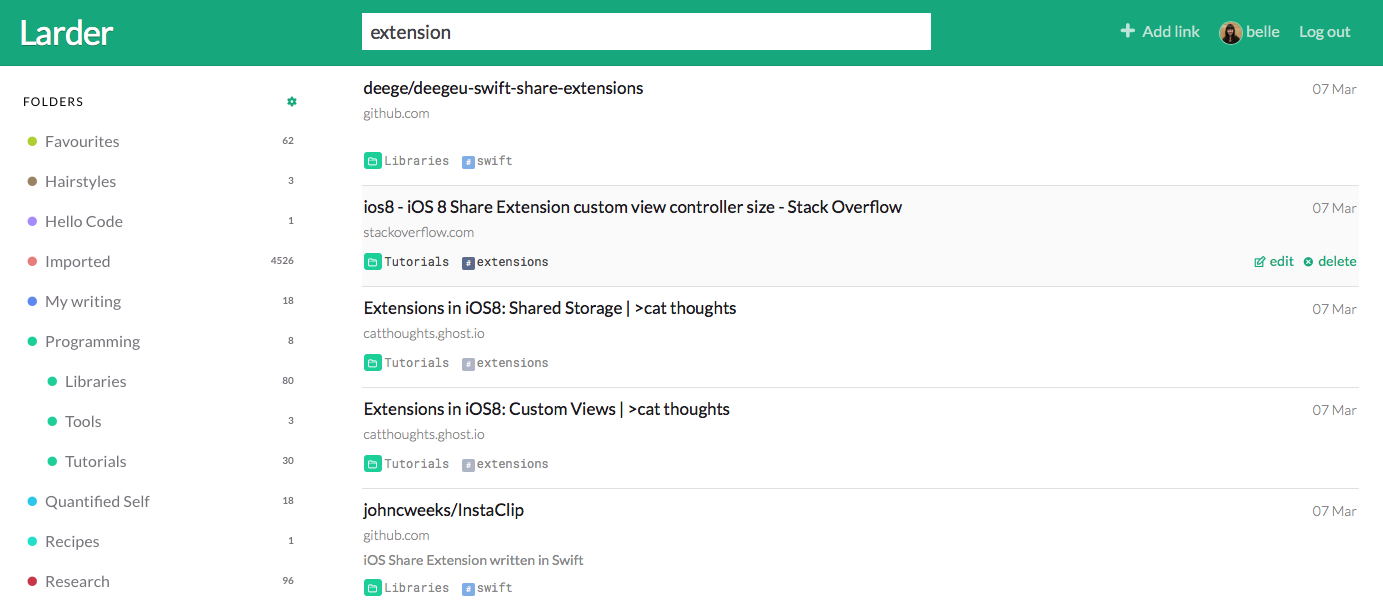 In the past I didn't use GitHub stars much, because I relied on my bookmarks so much. I often saved GitHub pages as normal bookmarks, or saved links to landing pages for projects, even though all the code was on GitHub. Now I star lots of libraries I might use one day in my iOS apps. Since I also bookmark lots of tutorials and helpful blog posts, it's easy to do a single search in Larder to find everything I've saved.
Shopping

When I'm in the mood for shopping but not ready to spend money, I like to bookmark products that catch my eye. This is really helpful when choosing clothes later, even if some of the items aren't available anymore, because it points me to sites I've already found that have styles I like.
It's also handy for researching things I don't know much about, like when I went looking for lights and locks for my bicycle. I wasn't ready to buy immediately, but I wouldn't have remembered where I found the lights I liked best without bookmarking them.
Research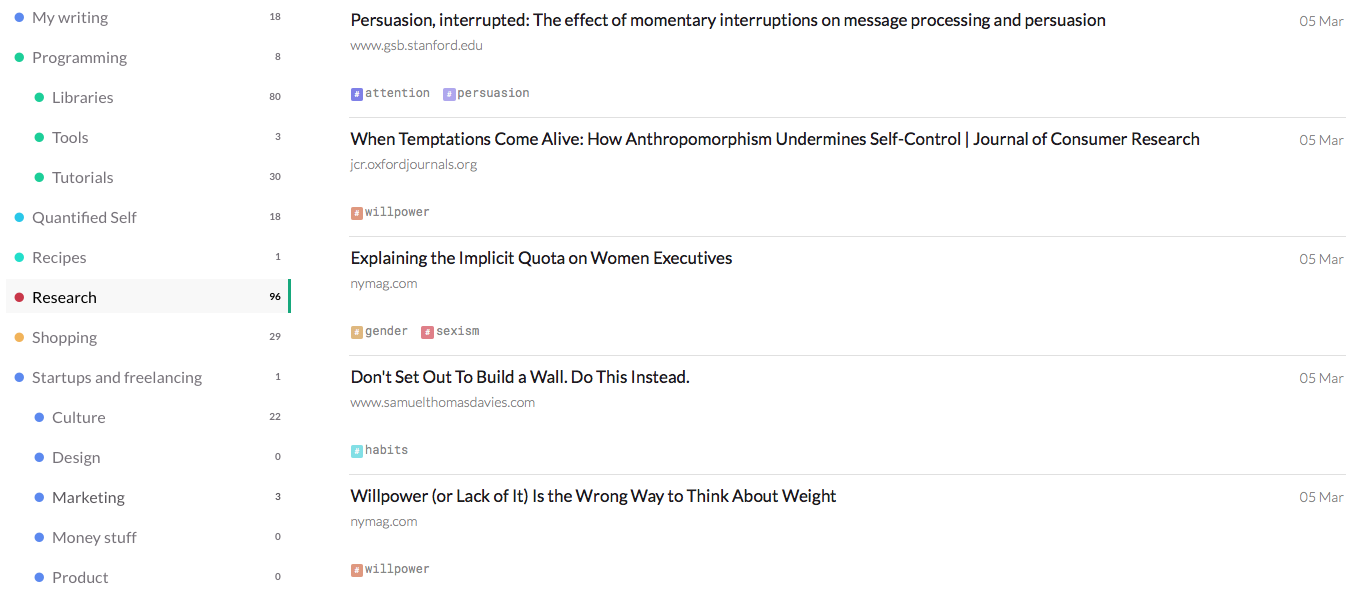 My research folder is easily my most-used. I use it to save anything I read that might be useful in my writing someday. I save journal articles, write-ups of studies, blog posts, and videos on anything from creativity to productivity.
Hairstyles

Since I had my hair cut short about a year ago, I've been trying different ways of having it cut each time I visit the hairdresser. I find it's best to take a few pictures of what I'm considering, so I keep links to pictures I like in this folder.
Hairstyles probably would work better as a Pinterest board, but I like having everything together in Larder, and not using a different service just to store a few photos.
My writing

I refer back to my own writing often when I write about the same, or similar, topics. I often go back to my old work to find reference material I used, or re-use a great quote.
Because I'm so often looking for things I wrote, and they're spread out across the blogs of all the businesses I've ever written for, it's much easier to keep these all together with the rest of my links where I can do a quick search by tag or keyword and find everything I have related to the topic I'm writing about.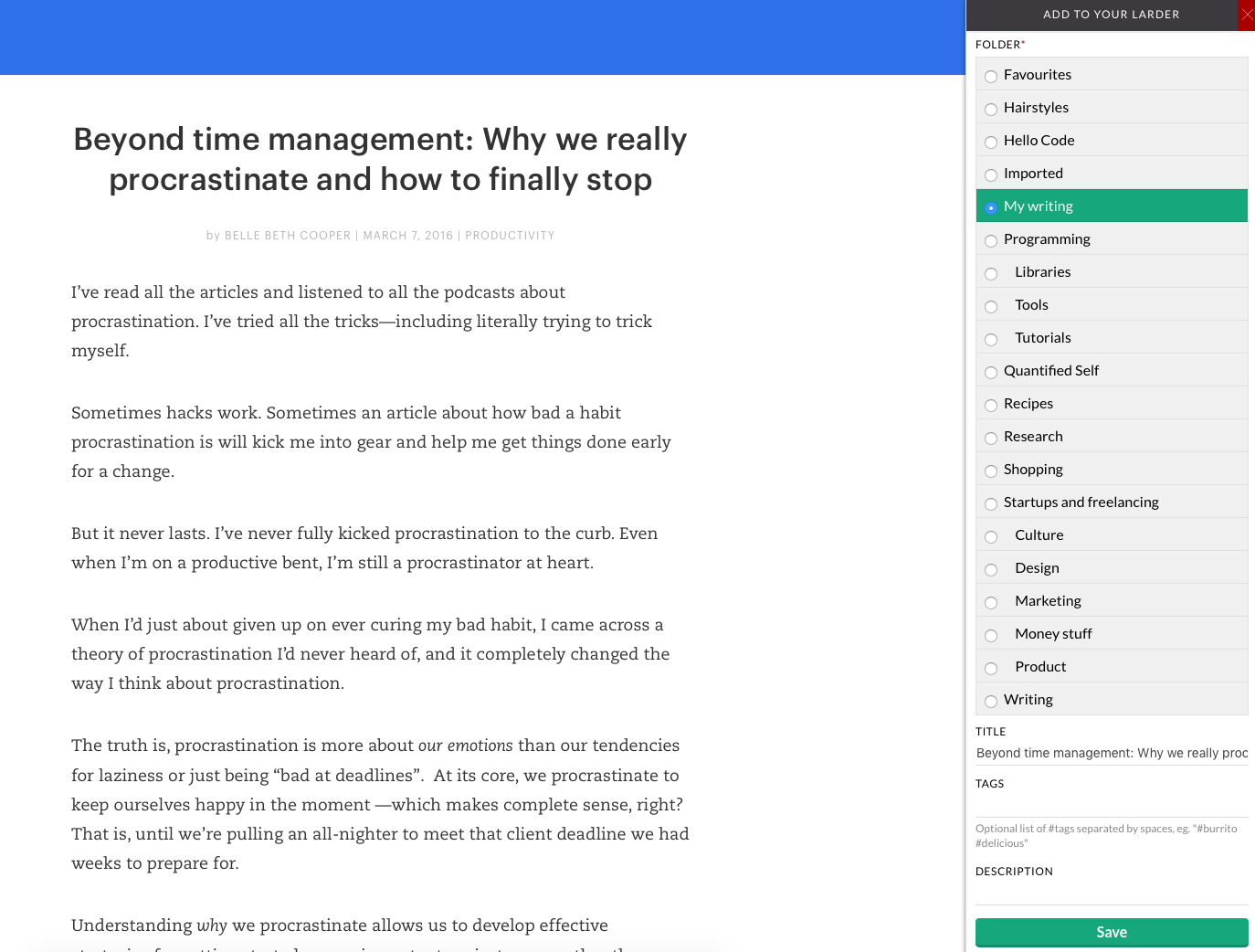 Whenever I have something new published, I try to remember to save a link in this folder. And more recently I made the folder public, so I can use it as a sort of portfolio to send to new clients now. It's always up-to-date with any new links I add, so it's an easy way for me to point people to examples of my past work.
---
There's no right way to use bookmarks, but I think it's interesting to see how other people use Larder. Hopefully this has given you some ideas that you might find useful yourself.
You can sign up to try Larder for free here.